This White Wulff Bomber is one of 4 Bombers tied in the style of Lee Wulff flies. Lee Wulff liked many of his dry fly patterns densely built with a profile of the more traditional dry fly insect-imitation. These Lee Wulff Bombers is a design combining the clipped deer-hair body of the Bomber pattern with the insect-like look of the famous Wulf flies.

White Wulff Bomber # 8 Body: 15 mm. (0.59 inches) Total length: 45 mm. (1.77 inches)
This fly is opposed to all our other Bombers tied on a hook. High quality chemically sharpened hook.
The other Lee Wulff Bombers
More about Bomber dry flies...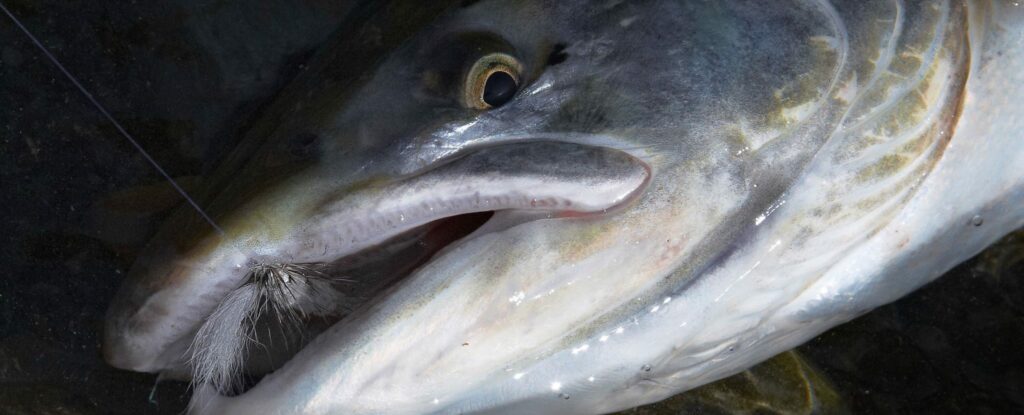 Body from deer hair attract salmon and steelhead
All our Tube Bombers is tied with US whitetail deer hair. The material is buoyant but not hollow as often mentioned in books and magazines – in fact, the hair contains a spongy material that keeps the deer well insulated during winter – More importantly these hairs are great fish attractors and there is no real explanation to this other than salmon and steelhead don't mind to snack on animals with pelt.
Read Fishmadman Newsletter on the subjects: Deer hair and how you prepare your deer hair flies
Learn how to tie a Tube Bomber
If you feel inclined to try to tie the Tube Bomber – we have the page to guide you – and also a kit with all the material needed to succeed.
Visit the page on Fishmadman.
Short Youtube video on how we tie on all our dead-drift dry flies
.