The standard summer dry fly
This could be termed;the standard size Bomber for Scandinavian and Canadian fishing through June – August.
We tie them in many colours, to suit various river systems – We sometimes combine the use of different size Bombers – We may start by employing a big Bomber then to change to a medium or small version once the fish has shown initial interest.

MEDIUM Tube Bomber ™ Body: 27 mm. (1.07 inches) Total length: 60 mm. (2,36 inches) – Fly is equivalent to a Bomber tied on a # 4 – 6 hook
Please note that the fly is shown with a hook – but sold without a hook – Look to the left to see the hooks suited for the fly you chose
The Tube Bomber system
Better hooking – no leverage problems – Less weight – Greater versatility
All Fishmadman Tube Bombers is based on the same smart system that will enable you to fish with different hooks.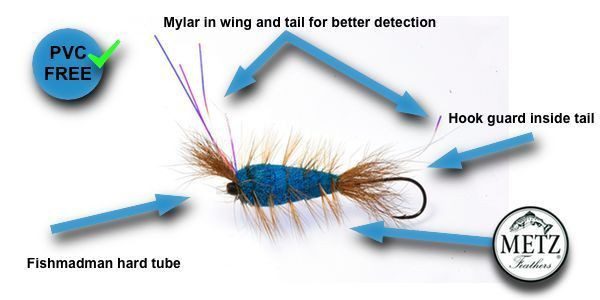 Same Tube Bomber but in a different size
the rest of the medium tube bombers
More about Bomber dry flies...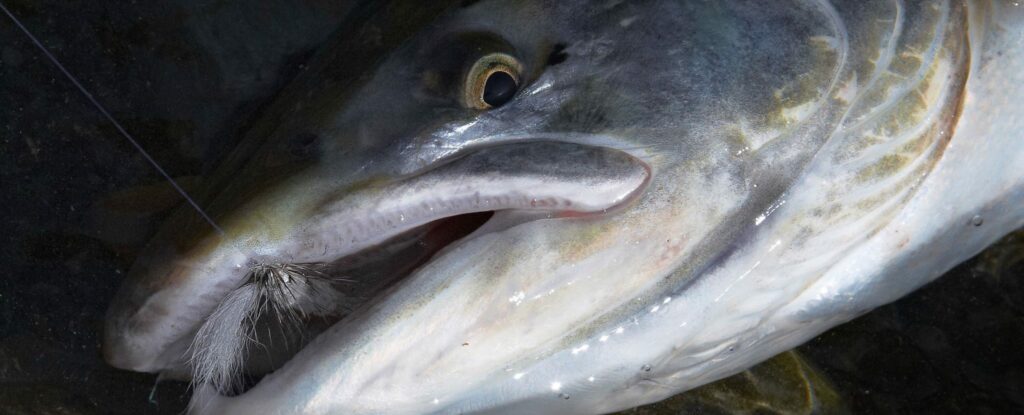 Flashabou in dry flies attracts fish
We originally designed the fly with strands or iridescent Flashabou at the tail and wing of the fly so we easily could detect the fly out on the turbulent river – We have over the years learned that the material could be of great importance to catch rates…
Body from deer hair attract salmon and steelhead
All our Tube Bombers is tied with US whitetail deer hair. The material is buoyant but not hollow as often mentioned in books and magazines – in fact, the hair contains a spongy material that keeps the deer well insulated during winter – More importantly these hairs are great fish attractors and there is no real explanation to this other than salmon and steelhead don't mind to snack on animals with pelt.
Read Fishmadman Newsletter on the subjects: Deer hair and how you prepare your deer hair flies
Learn how to tie a Tube Bomber
If you feel inclined to try to tie the Tube Bomber – we have the page to guide you – and also a kit with all the material needed to succeed.
Visit the page on Fishmadman.
Short Youtube video on how we tie on all our dead-drift dry flies
.