Iridescent closed cell foam
Limited stock of Iridescent close cell foam – made by Fishmadman for wake flies and small floating bugs 2 millimeters thick – Iridescent on both sides.
10 x 8 cm or 3,9 x 3 inches piece
Easy way to make your flies visible
Over the years, we have tried to make an iridescent fly tying material we could add to our wake and dry flies – We wanted to make our flies easier to find out on the rough water or in low light conditions – Little did we think that the iridescent material would increase the actual catch returns – but it did actually make the flies more attractive and as a consequence we today incorporate the iridescent EVA foam in several of our the fly patterns.
What is Iridescence?
iridescence: Opalescent, shimmering, luminous, glittering, sparkling, dazzling, shining, gleaming, kaleidoscopic, rainbow-colored –
We have many words for this highly attractive looking material that we find with animals on land and in water –
Iridescence (also known as goniochromism) is luminous colors that seem to change when seen from different angles. It is often created by structural coloration.
Iridescent material is a big thing in the world of deep sea trolling
Iridecesents play a part in the way prey and bait play hide and seek in the ocean and, many of the baitfish and worms salmon and steelhead feed on use the iridescent effect to hide in the water column – The predators is equally adapted to the game and have abilities and skills that will get them closer to the food.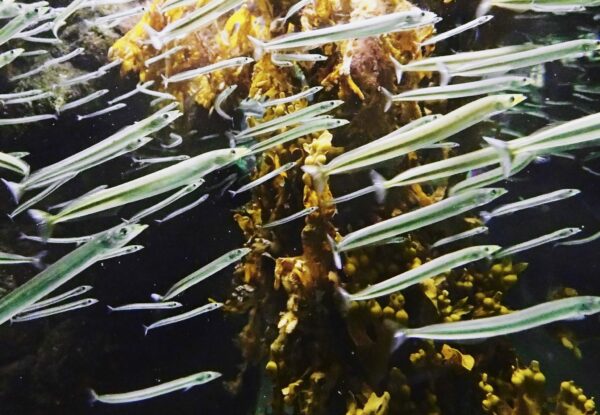 Glimpses of light shimmering in an iridescent material could very well be a the key element that could bring the fish closer to the bait.
See how we use the iridescent close cell foam in on of our wake flies
.