A selection of favoured Danish sea trout patterns - tied on tube
The assortment of trout fly patterns contains 10 well-known Danish sea trout flies, tied on a 1.4-millimeter tube – 5 ps. Owner ST -36 BC hooks in # 14-16 – a piece of PVC-free hook-guard that can be cut to the length you prefer, as well as a strong and practical plastic box from Lawson – Last but not least a detailed description of how you tie an L- RIG *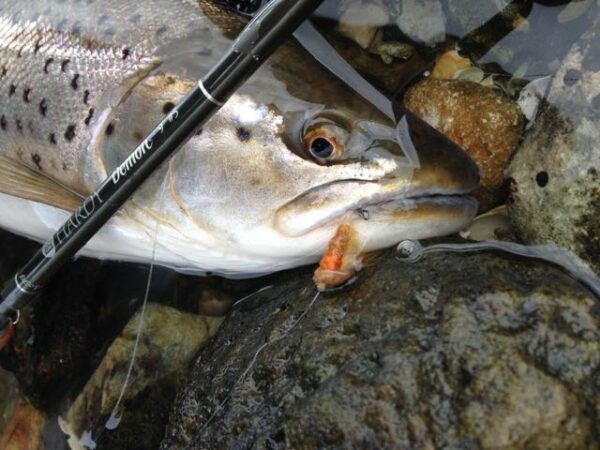 The tube fly a different still water fly
Sea-trout tube fly have been tested and described several times during the development of coastal fly fishing here in Scandinavia but it's never really become popular. That's a shame as the tube fly offers fly-fisher a different opportunity to present a fly to the sea trout that can be quite selective in its pursuit of prey. Inshore fishing with fly  and saltwater flies for sea trout is basically the same as we know from put and take fishing in fresh water … where the angler must bring life and movement to the fly –  with a little ingenuity tube flies can easily be shaped to fit into this type of fishing
.
Cutting edge technique - The L-RIG
Difficult to hook
Anyone who has ever tried to fish for sea-trout in rivers, estuaries or in the ocean know that sea-trout can be notoriously difficult to hook and small needle sharp hooks have for generations been the best tool for this difficult job.
Use the L-RIG
These flies are specifically designed to be used with the innovative L-RIG system devised by Mr. Jens Bursell – But the tube flies will also work as your normal tube fly with a hook fixed at the rear of the fly
Read all about this great way to tie on small hooks to flies and plugs
.