[vc_row][vc_column][vc_column_text]
Moose Turd Bomber Black steelhead wake fly
Here the famous Moose Turd by Bill McMillan – done the Fishmadman way on our Riffling Hitch Tube a favorite Bomber pattern with many steelheaders and a "must-have" in the fly box if you fish steelhead rivers in North America.
We know you're going to enjoy fishing this pattern – it comes highly recommended.
As many of our other wake flies it is tied on our Riffling hitch tube 3.2 millimetres  and it features our dependable wake-fly system making the fly wake with ease.[/vc_column_text][vc_column_text]
This a 40-millimeter version in Black – Our Medium version is equivalent to a # 6 – 8 hook version of this fly[/vc_column_text][vc_empty_space height="22px"][vc_column_text]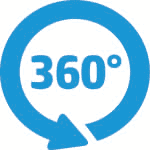 Fish your fly with the hook up-side-down
Just like some anglers will fish the hook reversed on the Quigley's Dragon Gurgler – they would also use this technique on their wake-bombers – to do so in an easy and smart way you may use a so-called egg hook or up-eye hook  – as seen fitted on the fly in the image to the right. The up-eye hook will enable you to get a different angle on the hook and the low-memory medium soft tubing this steelhead wake Bomber is tied on, is well suited to accommodate such a fly fishing method.[/vc_column_text][vc_empty_space height="12px"][vc_message]Fly is displayed with a hook but is sold without a hook – Please buy hook separately – Look for information to the left[/vc_message][vc_empty_space][vc_custom_heading text="The other Medium Moose Turd Bombers" font_container="tag:h1|text_align:left" use_theme_fonts="yes"]
[vc_empty_space][dhvc_woo_products heading_color="#47a3da" heading_font_size="26px" query_options="" query_type="1″ posts_per_page="10″ post_per_row="2″ show="" orderby="date" order="ASC" hide_free="" show_hidden="" style_options="" display="carousel" show_carousel_pagination="1″ carousel_arrow_background="#cfcdcd" carousel_arrow_hover_background="#47a3da" carousel_arrow_color="#ffffff" carousel_arrow_hover_color="#ffffff" carousel_arrow_size="24px" carousel_arrow_front_size="12px" carousel_arrow_border_radius="3px" carousel_pagination_background="#869791″ carousel_pagination_active_background="#47a3da" carousel_pagination_size="12px" item_border_style="solid" item_border_color="#e1e1e1″ item_border_width="1px" row_separator_color="#e1e1e1″ row_separator_height="20px" row_separator_border_style="solid" hide_thumbnail="" hover_thumbnail="" thumbnail_background_color="#ffffff" thumbnail_border_style="solid" thumbnail_border_color="#e1e1e1″ thumbnail_border_width="0px" thumbnail_border_radius="0px" thumbnail_padding="0″ thumbnail_margin="0″ hide_title="" title_align="left" title_color="#47a3da" title_hover_color="#98d2f7″ title_font_size="14px" title_padding="0″ title_margin="0″ show_excerpt="1″ excerpt_length="15″ excerpt_align="left" excerpt_color="#333333″ excerpt_font_size="12px" excerpt_padding="0″ excerpt_margin="0″ hide_price="" price_color="#47a3da" no_discount_price_color="#333333″ price_font_size="14px" no_discount_price_font_size="12px" price_padding="0″ price_margin="0″ hide_addtocart="" addtocart_padding="0″ addtocart_margin="0″ add_cart_price_style="2column" show_rating="0″ show_sale_flash="" show_quickview="" id="dhvc_woo_dc9fc471d8″ heading="The rest of the wake Bombers " products="" exclude_products="7774,7773,7772″ category="701″ exclude_category="" brand="" exclude_brand="" tag="" exclude_tag="" attribute="" thumbnail_width="" thumbnail_height="" el_class=""][vc_empty_space][vc_custom_heading text="See what the guides wrote… " use_theme_fonts="yes"][vc_column_text]
We've done so well on your flies over the years and they skate so well that we don't need to fish anything else when it comes to wake flies!

[/vc_column_text][vc_single_image image="7539″ img_size="full" alignment="center"][vc_empty_space][/vc_column][/vc_row][vc_row][vc_column][vc_column_text]

FREE SHIPPING
We work with very low shipping prices and give you FREE shipping when buying goods worth + 100$
[/vc_column_text][vc_row_inner][/vc_row_inner][vc_column_inner][/vc_column_inner][/vc_column][/vc_row].