Try a form of salmon fly fishing that will change your sport for good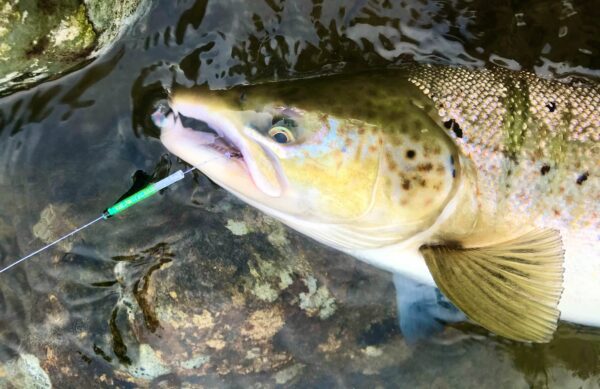 Heart stopping action
It's quite a bold statement but also something we believe in as we over the last decade have developed this sport and seen salmon behaviour we never have seen before.
This form of speed-fly fishing relates a lot to spinning and the action is heart-stopping great.
Cast the fly across the river or even upstream and rip it in as fast as you possibly can…That is the basics and once you get to know the procedure you will see salmon chasing your fly across the river often hitting it in a great splash.
Its a form of fishing that works great on salmon the first second and 3´rd cast after that…the salmon won't come to the fly that eagerly …so it is worth practising a bit before you visit your favorite known salmon lies.
Two good tips
When you speed-retrieve your fly …leave it motionless on the surface before it reaches the top guide of your rod – The salmon will very often take the fly in a big swirl or by jumping straight out of the water.
Strike when you see the fish jumping – at this point the fly will already be inside the mouth of the fish.

The size of this Sunray
This a 60 – 65 -millimetre fly…or medium version – The tubing is 25 millimetres long – The tubing is 3.2/2.0 mm. thick – The tubing diameter is flexible due to the special nylon compound we have formulated – So bigger hooks than those we suggest could be used
Why are these long wing Sunray Shadow flies so good?
Gleaming baitfish
A substantial percentage of the food Atlantic salmon and steelhead eat at high seas is fish – often small silverfish like Capelin and sand-eel as seen in the photo – Most likely the long-winged tube fly like the Sunray Shadow will encapsulate the essence of these fish
Baitfish like sand-eel is on the menu for salmon across the northern hemisphere – The Sunray Shadow is a very good representation of these gleaming and erratic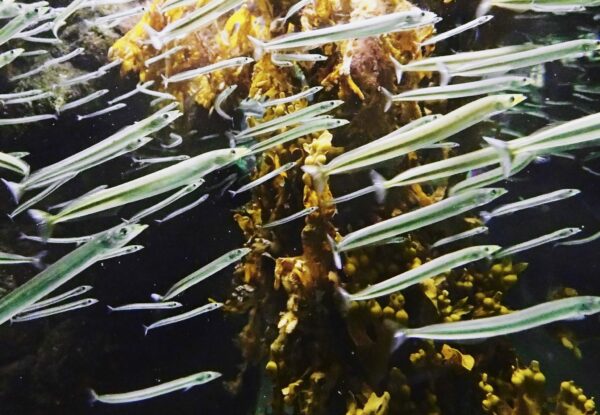 The Speed Sunray Shadow series
.